Do you have an idea for a game but you need somebody to write it? Do you need a narrative game for a special occasion? (Or for a special someone?)
If that's the case, hire me! I can design and write narrative games tailored to what you are looking for. If you want a parser game, a hyperlinks-based game, or a game mixing both, ask me; I will use the experience I gained during the ten years I have spent writing games and being involved in the IF community. I can also join your team on your current project, and contribute some writing or help designing your game. Feel free to send me an email!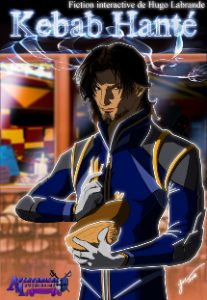 I have written a game on commission: Le kébab hanté, a short and accessible parser game made with Vorple. The game is set in the transmedia universe of Aventuriers Intérimaires, created by Laurent Pendarias, who commissioned this game. I had to set the game within the parameters of this universe and read the other works set in this world, so as to integrate lore elements, and I used an original setting for the game and added my own lore elements to this universe. The game came out in October 2017.
On a more original note, I have also designed invitations for a wedding that were a hypertext game made with Twine.
I am also available for hire to translate your narrative game between English and French! As you'll see on my page on translations, I already have translated several games from English to French, and a few more from French to English; I also worked on specialized tools to streamline the process, by working directly on .po files.
Don't hesitate to send me an email, or a Twitter DM!