Le kébab hanté (in French)
(Play online | Download the game | IFDB page)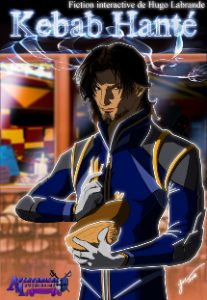 Parser game with hyperlinks to help beginners; rather short (half an hour). Urban fantasy genre with a bit of humor; the game is set in the transmedia universe (which already existed prior to this commission) of Aventuriers Intérimaires, created by Laurent Pendarias, who commissioned this game. The game was released in October 2017. Illustrations by Yue and Fugushiman.
We knew Hugo through his work. When we talked to him about this zany idea of a haunted kebab shop, he jumped at the opportunity and created this vibrant paranormal investigation. Hugo studied thoroughly all the angles in the universe of Aventuriers Intérimaires [Freelance Adventurers], reading books, short stories and games, to provide an experience which matches the lore, while still adding his own touch. The result is a sleek game which often draws people in, sometimes frustrates them, but always makes them think.

Laurent Pendarias, creator of the "Aventuriers Intérimaires" universe.
---
"Lost in the jungle" – sample game for CSML, a programming language for chatbots by Clévy.io
For their new programming language for chatbots, CSML, which was under active development at the time (2019), the French startup Clevy.io wanted me to design a game that would showcase the language and platform's functionalities: multiple choice questions, free text input, multimedia integrations, variables, etc. I thus designed, wrote, and programmed a game similar to "Fail-Safe" or "Lifeline", in which a character stuck in a jungle is sending us messages and the player must attempt to help solve his problems.
We commissioned from Hugo a game which would have no constraints on the premise but would follow a precise format: an adventure game that would last about 20 minutes, that take the form of just one conversation and would showcase the main functionalities of our new conversational engine and its associated programming language, CSML. Hugo perfectly fulfilled these expectations by producing high-quality content that would subtly shine a spotlight on each of the tool's core functionalities. Our collaboration was perfect: Hugo was very responsive and flexible, but also contributed many novel ideas, which considerably enriched our work on the software, and he was also very patient when he encountered problems with the language or the documentation, which enabled us to keep improving the software in an agile fashion.


François Falala-Séchet, CTO de Clévy.io
---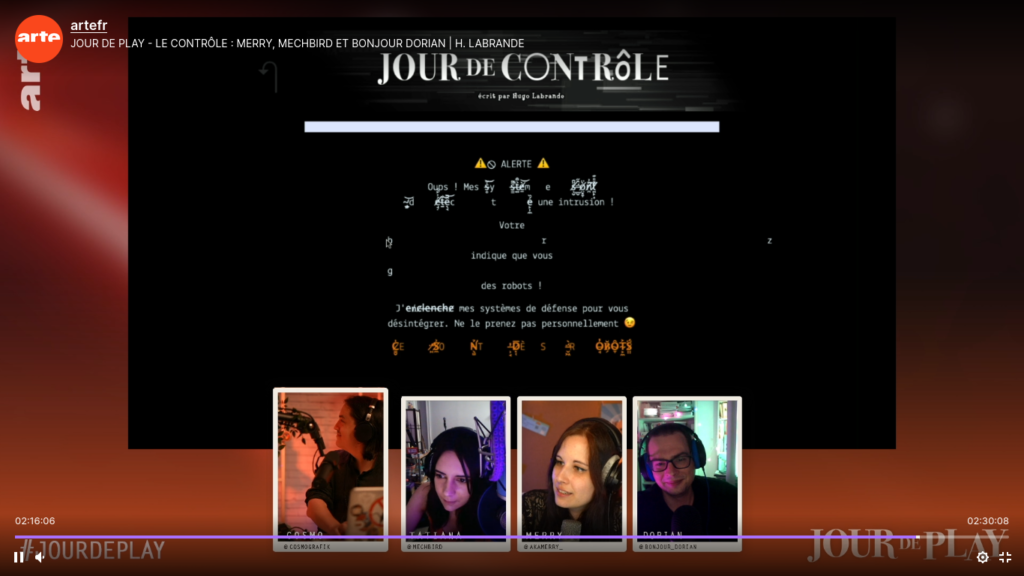 Writing text games for "Jour De Play", Arte's videogame-focused show on Twitch
"Jour De Play" is a show produced by Arte, the Franco-German media group, on their Twitch channel; the show explores topics related to video games with guest panelists bimonthly. They wanted to have the last half-hour of the show be a moment where panelists and hosts have fun together playing a custom-made video game, and involve the viewers as well. The games are made with Twine, and have a narrative, choices to be picked by the host and the panelists, and choices for the viewers to provide input (and mess with the on-screen team) through Twitch's chat function. The writer's room is made of three writers, Antoine Herren, Cindy Asselin de Beauville, and me; I wrote the games for the episodes "Remix", "Control" (season 1), and designed the RPG that is played during season 2, as well as writing some of the episodes.
---
« Scientific growth » – serious game for Ilyass Tabiai, professor at the École de Technologie Supérieure in Montréal
As part of a seminar on epistemology for the ÉTS's graduate students, one of the ÉTS's professors of mechanical engineering wanted to explore the use of a serious game on the topic of epistemology, the scientific method, and the potential reasoning mistakes that a graduate student must be able to understand through their studies and research. Ilyass approached me with an idea inspired by Liu Ciuxin's "The Three-Body Problem"; after devising a narrative arc, I design a chapter-based structure in which each chaper addresses a different aspect of the scientific method and its use – from creating models to falsifiability or the excesses brought by scientism. The result is a hour-long serious game written in Ink, summarizing and presenting several points of view on the scientific method.
It's awesome! I think it's an excellent experience for young graduate students, far better than what I had in mind. You really were the perfect person for the job 🙂


Ilyass Tabiai, professor at the ÉTS Montréal